Unified Shelby County School Board: They approved a $2 million study by a consultancy group over "compensation reform" and a three-level teacher ranking system. The struggle over school buildings is shaping up into a fight. Fox 13 talks with residents of Hickory Hills and Germantown about the school merger.

---

Achievement School District: A summing-up article about Monday's announcement that six local schools will be taken over by the State. And followup stories from WREG.

---

Mayor A C Wharton: A new program, called the Mayor's Millennials, looks to recruit an army of younger people to advise him. The Leadership Academy is also involved; more.

---

Arlington: The County is denying it received the notice of the town's intention to implement a sales tax to fund municipal schools.

---

Republican Presidential Primaries: There's a 40% drop in participation in this year's early voting, compared to 2008.

---

Memphis City Schools: The "Heal The Hood" program fights gangs, bullying and cyber-bullying in the City's schools. A string of break-ins and computer thefts at City schools. Deputy Superintendent Irving Hamer is still on suspension for comment made over the weekend.

---

Civil Service Reform: Governor Bill Haslam is now backtracking and offering concessions.

---

Politics: State Representative Joey Hensley talks about his legislation to limit sexual discussions in schools to "natural human reproduction science" among first through eighth graders. The effort to make motorcycle helmets optional will have to wait another year. More on the Democratic push to end the grocery tax.

State Senator Andy Berke becomes the latest Democrat to decline to seek re-election.

---

Pinnacle Airlines: Is former president and CEO Phil Trenarywaiting out a non-compete to take over at People Express?

---

Arkansas: Another police officer, Detective Erik Wilbanks, has been suspended in the ongoing investigation in Trumann; more. The University of Arkansas is re-rereleasing student publications from the Sixties and Seventies to mark Black History Month.

---

US Senator Bob Corker: He has already amassed a re-election fund of $7.4 million, far outstripping all his opponents.


---

Crime: Movie rental kiosks are becoming magnets for crime.

---

DeSoto County: Auditors are expected to ask for a second review by aldermen of Southaven mayor Greg Davis' receipts, and they are reviewing his utility stipend. A delegation of County officials travel to Washington to meet with area legislators with their usual wish-list of program wishes. State legislators also toured Olive Branch to learn about "medical zones" as economic drivers. The US Department of Agriculture will close nearly a dozen offices in the State, including two in the County. Some Olive Branch residents have been affected by identity theft and tax fraud. One Southaven man, Don Daniels, has started his own gas war!

---

Beale Street Music Festival: The 2012 lineup has been announced. More from the Flyer, WREG, WMC and Fox13.

---

Tell your friends you read it here:





---

NEW! INTERNET EXCLUSIVE! Comparing Economic Plans: Our economic contributor Chuck Bates looks at the tax plans of the four Republican presidential candidates and President Barack Obama to see which offers the great, most beneficial change.

---

Internet Exclusive: Where's Carol? Contributor Mick Wright wonders why Shelby County District Attorney candidate Carol Chumney is missing in action for her own campaign!

---

Internet Exclusive: How I Got Involved in Local Politics: Southaven's Oriana Hill was dismayed that nothing was being done about Mayor Greg Davis' official shenanigans, so she decided to take action herself. Read her exclusive story here!

---

Raymond James Financial: The US Justice Department has OK'd their acquisition of Morgan Keegan.

---

Millington: The Board of Mayor and Aldermen voted 6-1 to switch the town to a "city manager" form of governance, reducing the positiion of mayor to part-time. There are other, more controversial changes, not everyone agreees with.

---

March 6 Election:Yesterday was the end of early voting, which saw low turnout. The Shelby County Election Commission website.

---

Eduardo Marmolejo: Accused of fatally stabbing his school's principal, he was indicted yesterday on first-degree murder charges in her death.

---

The Catholic Diocese of Memphis: More on the Tennessee Supreme Court's decision to allow the case to go forward in Norman Redwing v. The Memphis Catholic Diocese.

---

Memphis Animal Shelter: Former shelter veteranarian Dr Angela Middleton was given an October trial date on charges of animal cruelty.

---

West Memphis Three: Supporters, backers and lawyers for the three men originally blamed for the murders are now offering a $100,000 reward for "credible" information of alternative witnesses or suspects. More from WMC.

---

City of Memphis: The City's "boot and tow" program isn't generating the scads of cash some had promised.

---

Mississippi: There's a real gas war going on in Water Valley.

---

Business: Memphis chain CK's Coffee Shop is adding a location in Jackson, TN.

The Business Journal covers People on the Move. The Commercial Appeal notes your People in Business and What to Do. Then the Daily News has Today's Events and Memphis Newsmakers.

---

Autozone: Their 2nd quarter 2011 net income and earnings per share were strongly improved. It is their 22nd straight quarter of double-digit growth.

---

Kruger Products (KTG): Their tissue mill in Memphis (which makes White Cloud) will hire 100 more workers. More from the CA.

---

Electrolux Home Products: They released a statement yesterday to note that 89% of all construction projects were awarded to Memphis companies. Women- and minority-owned businesses got 33% of jobs, too.

---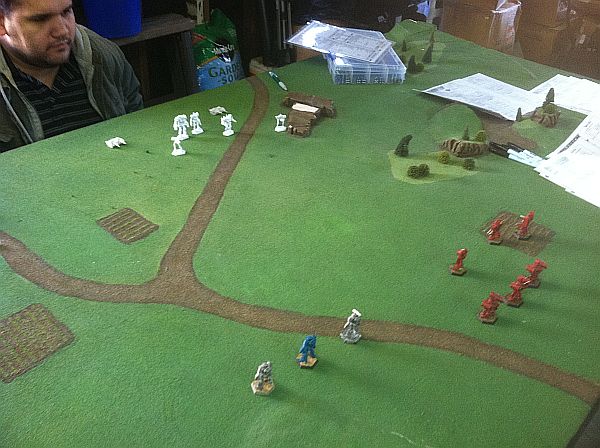 The mechs are lined up for an upcoming battle in Battletech, from The Conservative Zone by Mark Havener. © 2012. Used with permission.
Close
Bookmark and Share This Page
Copy HTML:
If you like this then please subscribe to the
RSS Feed
.