Photo Credit: www.visualphotos.com

Hidden Crime?


Has the city's reduction in the crime rate been bolstered by 79,000 police "memos"–documents which may record crimes but don't count toward crime statistics? The Memphis Police Department's Director Toney Armstrong thinks it may be possible. The MPD is now reviewing them.

The Memphis Police Association says the City is dragging its feet in the court case filed last year over cuts in pay and no raises. Police discovered after the fact a car chase involved wild gunfire while it was in progress.

---

Voter ID: County Commissioner Henri Brooks announced a free transportation program for anyone who needs State-issued ID before the next election.

---

Pyramid: The demolition work is almost finished.

---

Unified Shelby County Schools: The spending limit for the new Superintendent will be capped at $250,000. More on the audits of the City and County school systems and the problems they found.

---

Suburban School District: Ahead of any official move by the suburbs, State Representative Curry Todd has filed a bill that calls for County school buildings to be transferred debt-free to any municipal school districts. More from Fox13, WREG.

---

Crime: Many unanswered questions in the arrest of Alvin Upchurch for the shooting death of Central High School student Terrance Wilkins. More from Fox13, ABC24, the Flyer.

---

Mississippi Pardons: Sorting out the pardons mess may be a "courtroom circus".

---

Republican Presidential Primary: Former US Senator Fred Thompson is now backing candidate Newt Gingrich. State politicians who back Gingrich say Tennessee is poised to follow South Carolina's example.

---

Politics: Will the State's estate tax be reduced or moved to a higher tax bracket? GOP lawyer and party activist John Ryder has been playing a "quiet role" in Shelby County's redistricting. US Representatives Scott DesJarlais (Republican, Fourth District) and Jim Cooper (Democrat, Fifth District) are combining on a bill to deny Congressmen their pay if they "miss deadlines for budget and appropriations bills".

---

Germantown: The town will roll out its new policy allowing private streets to go public with the Devonshire Gardens Homeowners Association.

---

R. Allen Stanford: Opening arguments from the prosecution are underway now. Summary of the prosecution's case.



---

Memphis Botanic Garden: Fundraising will begin shortly on a permanent outdoor live stage for "Live at the Garden" and more projects.

---

Mississippi: In his first State of the State speech, Governor Phil Bryant outlined his legislative agenda.

---

Financial: A common stock sale netted $109 million for BancorpSouth.

---

Tell your friends you read it here:





---

Internet Exclusive: The Political Silly Season: Our political and financial contributor, Chuck Bates, is already growing tired of outrageous political ads and he's still got to survive until November!

---

Internet Exclusive: Rick Santorum and the Tea Party? Our Tea Party contributor, Ed "Doc" Holliday went to New Hampshire for the nation's first primary vote and argues that, now, Rick Santorum might be the last hope for the Tea Party movement in national politics.

---

Share the Main Street Journal: We have a Facebook page now. Share the news with your friends and coworkers; discuss the news, too.

---

Triangle Noir: A public meeting is planned for January 30, on "best usage concepts" for the historic area downtown, slated for redevelopment.

---

Mayor A C Wharton: He is promising to revive the Metro Gang Unit as part of his "100 Days" plan.

---

Shelby County Commission: The "civility gap" laid bare. An animal welfare ordinance would allow non-profit animal welfare agencies to collect and forward, if they choose to, reports of animal neglect or abuse.

---

MLG&W: The State House turned to an arcane law to settle a dispute between Memphis and Shelby County over a $6 million payment.

---

Shelby Farms: More on the $500,000 solar-powered charging station being installed for electric vehicles. It will be able to charge 10 vehicles at a time. More from ABC24, WMC.

---

BRIDGES: They named Cynthia Ham as their new president. She comes from archer>malmo, where she was the PR head.

---

DeSoto County: Volunteers are needed for the Vietnam Traveling Memorial Wall that's coming in May. The Commercial Appeal's Bulletin Board for the county. This Friday an historical marker will be erected for Springhill Cemetery, the County's oldest.

---

Business: New rules further limiting the number of hours truckers can drive means rising costs for everything carried by trucks.

In today's Business Journal, People on the Move. The Commercial Appeal reports People in Business and What to Do. And, from the Daily News, Today's Events and Memphis Newsmakers.

---

Buckeye Technologies: Good second quarter news as they reported higher sales and a sharp increase in net income as well as an increase in their dividend.

---

Regions Financial: The company reported a $602 million loss for the most recent quarter, due to charging off the acquisition of Morgan Keegan. The company ended with a loss for the year. More from the Commercial Appeal.

---

FedEx: A company-wide rollout of SenseAware technology. CEO Fred Smith is aligning his company with Federal efforts to create a fuel-efficient national transportation policy.

---

Whitehaven: Residents are worried about an expanded gas station, that would service 18 wheel trucks, that might overburden their neighborhood.

---

Warm Weather: The unusually warm winter means many bugs and pests think Spring is already here.

---

West Memphis Three: Amanda Hobbs, sister of murdered Steven Branch reacts to the latest news on the case.

---

Hollywood: Several "made in Memphis" films have been nominated for Academy Awards this Sunday, in one case despite outrage.

---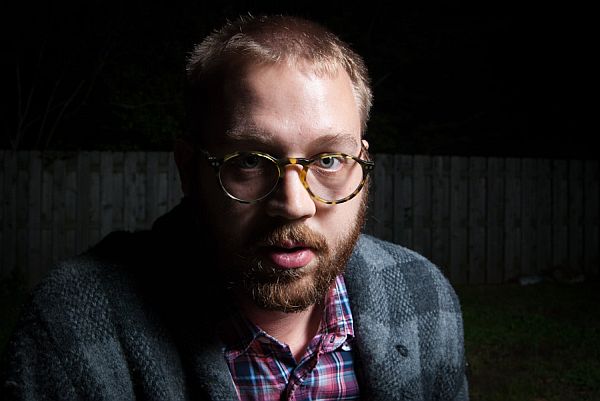 It takes some amount of courage (and some beer) to do a self-portrait, from Kip Gordon. © 2012. Used with permission.
Close
Bookmark and Share This Page
Copy HTML:
If you like this then please subscribe to the
RSS Feed
.