Photo Credit: Kerry Hayes

T-Minus 100 Days


Mayor A C Wharton gave his State of the City speech yesterday at Southwest Tennessee Community College. (Prepared text here) He laid out an aggressive, wide-ranging set of goals. Wharton looked forward to Memphis not sending $70 million to the schools. He also recommitted to the redevelopment of Whitehaven/Graceland area. He had many "key priorities". Another team, including CIty CAO George Little has been formed to implement those priorities, promising "unique solutions". Wharton talked about plans for the Animal Shelter.

---

Shelby County Commission: Plans to meet to discuss and approve a redistricting plan "collapsed dramatically" into another acrimonious meeting. What emerged late was a 13 single-member district plan that surprisingly found traction. (Read Commissioner Steve Mulroy's proposal of the plan in the Main Street Journal.) They did agree to reduce the size of the Unified Shelby County school board from 23 today to 7 by 2013, then possibly growing back to 13.

Councilman Brent Taylor withdrew the censure motion against Councilmen Terry Roland and Mike Ritz, though Ritz maintained Taylor's offer appeared to him to be a bribe. Showdown averted. The public is growing impatient.

---

Morgan Keegan: While the deal for Raymond James Financial to purchase the investment firm has been announced, the implications of the deal are just now coming into focus.

---

Republican Presidential Primary: The Fox13 Insiders discuss the state of the race.

---

Suburban School Districts: Both Collierville and Germantown began the process of starting their own school districts. Both Boards voted unanimously on different paths: Collierville to set up a public referendum and Germantown to begin mayoral talks with the new County school system. Germantown parents packed Houston High School to hear from the Transition Planning Commission.

---

Unified Shelby School Board: The Shelby County Election Commission can't set elections for seven new school board members until the County Commission sets new districts.

---

West Memphis 3: The mother of one of the victims, Pam Hobbs, reacts to news that her ex-husband is implicated by defense attorneys. More from WREG.

---

Business: The average Memphis worker makes $40,170 a year, slightly less than Nashville. A 5% increase in business licenses for Shelby County in 2011 but a slight decline for Q4 2011 versus the year before..

The Daily News covers Today's Events. And the Commercial Appeal reports What to Do and People in Business.

---

Schwan's Home Service: They are closing their Bartlett distribution center, taking fifteen jobs.

---

Tell your friends you read it here:





---

Internet Exclusive: The Political Silly Season: Our political and financial contributor, Chuck Bates, is already growing tired of outrageous political ads and he's still got to survive until November!

---

Internet Exclusive: Rick Santorum and the Tea Party? Our Tea Party contributor, Ed "Doc" Holliday went to New Hampshire for the nation's first primary vote and argues that, now, Rick Santorum might be the last hope for the Tea Party movement in national politics.

---

Share the Main Street Journal: We have a Facebook page now. Share the news with your friends and coworkers; discuss the news, too.

---

HOPE Scholarships: Students who don't meet both requirements for a scholarship, but keep college requirements for two years would be eligible for a reduced award, under a new proposal. The Associated Press story.

---

Shelby County Schools: Auditors found dozens of infractons, some "material", but nothing major.

---

R. Allen Stanford: His trial got underway on Monday. Juror selection was the first order of business. Background from the Commercial Appeal. More from Fox13.

---

Agriculture: Conservation Innovation Grants are available to farmers who apply by the end of the month for grants to cover "green" and profit-raising practices.

---

US Senator Rand Paul: While traveling through Nashville International Airport on his way to Washington DC, a sitting US Senator was held for refusing to allow TSA to conduct a "pat down".

---

Politics: TN businesses are pleading for an end to the estate tax. The sausage-making that is government ground up State Representative Beverly Marrero. State Senator Mae Beavers has withdrawn her bill to strip State courts of the power to rule on the constitutionality of passed legislation. Two Republican State Senators have filed a bill to make it legal to display the Ten Commandments in public buildings; more.

---

TN Fourth Congressional District: State Senator Bill Ketron says he will not run for the 4th District, citing family and liking State government. His press release.

---

Mississippi: Revenues from Tunica's casinos fell 11% last year due to Spring flooding. December was the only month in 2011 that beat 2010.

---

University of Tennessee Health Science Center: The College of Nursing has named three finalists for dean of the department. The committee will now interview and evaluate them.

---

Mississippi Pardons: A judge held the first hearings yesterday into invalidating some of the pardons given by former governor Haley Barbour.

---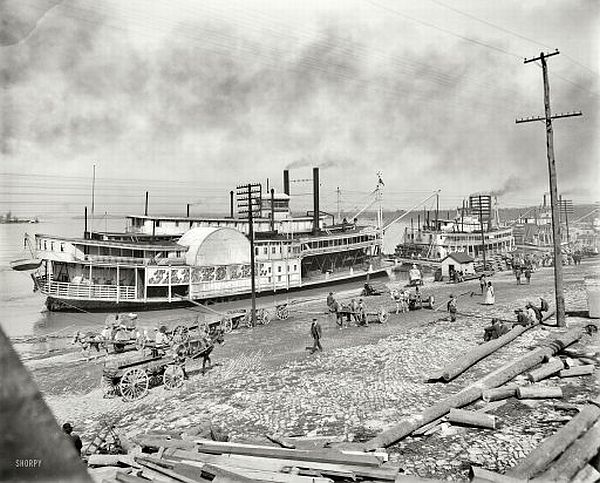 Three Mississippi sidewheelers at the levee, circa 1900, from Shorpy. Be sure to click through to examine this photo's marvelous details. © 2012. Used with permission.
Close
Bookmark and Share This Page
Copy HTML:
If you like this then please subscribe to the
RSS Feed
.