Photo Credit: WMC/

Main Street JournalA New Year in Memphis


Newly installed in his first full term, Memphis Mayor A C Wharton has a "100 day plan" for his administration. He is only giving hints right now; related stories from ABC24, WMC. Other elected leaders have similar desires and talk of "moving forward".

---

Memphis City Council: They will have their first meeting of 2012 today. The meeting agenda.

---

New Laws: The new voter ID requirement kicks in this year. The City of Memphis will start booting and towing vehicles whose owners have unpaid fines. ABC24 reports on the new alcohol and prescription drug laws coming into effect; more. And a Mid-South overview of all the new laws.

---

Judge Richard Baumgartner: The retired and now disgraced Knox County judge is facing new allegations that his drug habit was filled, at least in part, by local law enforcement, among many other new questions.

---

County Redistricting: A new proposal from interim Commissioner Brent Taylor has been called "highly illegal" and a "bribe" by fellow commissioners. The County Commission failed to ratify a redistricting plan by the end of last year and now it may mean court.

---

Stella Marris: Steve Cooper's controversial strip club qua dance club re-opened for New Year's Eve. Demons and strippers did not belch forth.

---

Transition Planning Commission: They plan a series of public meetings to begin in Collierville on January 10. The TPC website.

---

Pigford II: A rally was held over the weekend for black farmers opposed to the current settlement of Pigford v. Glickman.

---

Shelby County Election Commission: They are planning outreach to Hispanic voters, to let them know of the new voter ID requirements.

---

Politics: Will this year's General Assembly be a "play it safe" session? The Tennessean looks at the 2012 political outlook. Governor Bill Haslam, unlike Lt Gov Ron Ramsey, is not ready to get into a major worker's compensation overhaul. Haslam is also hesitant on adjusting the State's "regulatory climate". From the TN Report, the Top Five videos of 2011.

---

Republican Presidential Primary: Several Tennessee Congressmen share their memories of working with Newt Gingrich when he was Speaker of the House. Four of nine Republican candidates running in Tennessee have no pledged delegates to the convention.

---

Traffic Fatalities: Tennessee had its best year since 1962 for traffic deaths.

---

Financial: Analysts expect Regions Bank to post only a small profit this quarter.

---




---

NEW ARTICLE! Regular Main Street Journal contributor Chuck Bates, on the eve of the Iowa caucuses, looks at the Republican field and wonders, "Are we headed to a brokered convention?"

---

2012 Republican Primary: Our Tea Party contributor Ed "Doc" Holliday looks at the Republican presidential candidacy of Newt Gingrich and wonders if his past baggage can–or should–be overcome in tea party eyes.

---

The Main Street Journal Gets Social: We're instituting some new ways for you to let your friends know about Memphis news in the MSJ. Look at the bottom of the left-hand column for sharing tools. And don't forget the social media tools we offer in the right-side widget. We've also got a new Facebook page. (Will require Facebook login.) Share the news, with the Main Street Journal!

---

Occupy Nashville: A couple of violent incidents at the Nashville encampment last week were not related to the group, organisers insisted.

---

Downtown: Food trucks are proving a "viable option" for quick dining. The first restauranteur is being sought by the Beale Street Landing.

---

2012: Local pastors react to doomsday predictions for 2012. A crystal ball of predictions for Memphis.

---

Crime: Memphis had an "average" number of homidices last year, says Police Director Toney Armstrong; more from WREG. There were 147 homicides in 2011; a "police explanation". "Thousands" of non-violent convicted crack cocaine users will be released from jail under new guidelines. US Attorney for West Tennessee, Edward Stanton says he'll be getting tough on gangs in 2012. Metal thieves are hitting some places twice.

---

Memphis, Then and Now: From website The Atlantic Cities, a comparative look at Memphis in 1887 and 2011.

---

Mississippi: The Associated Press looks ahead to the next session of the State Legislator. They have an ambitious agenda. This also begins the era of Republican domination of the government.

---

Business: The Daily News' Small Business Spotlight shines this week on Design 500.

From the Commercial Appeal, there's What to Do. And the Daily News tells us Today's Events.

---

Electrolux: The general contractor for construction of their new Memphis plant will be W.G. Yates & Sons Construction. Yates touts itself as a "Memphis-area" company, but is based in Philadelphia, MS.

---

Trane US: The HVAC company will expand their presence in Memphis by 625,000 square feet.

---

Schnucks: The old Schnucks grocery store in Southaven is now slated to become a Stepherson's Superlo Foods.

---

DeSoto County: Repaving State Line Road is a two-State affair. The Greenbrook Softball Complex in Southaven was damaged by illegal fireworks. Newly elected County officials were sworn in on Monday

---

Bartlett: The Bartlett Express has the 2011 Year in Review. The Commercial Appeal profiles Municipal Judge Dan Brown.

---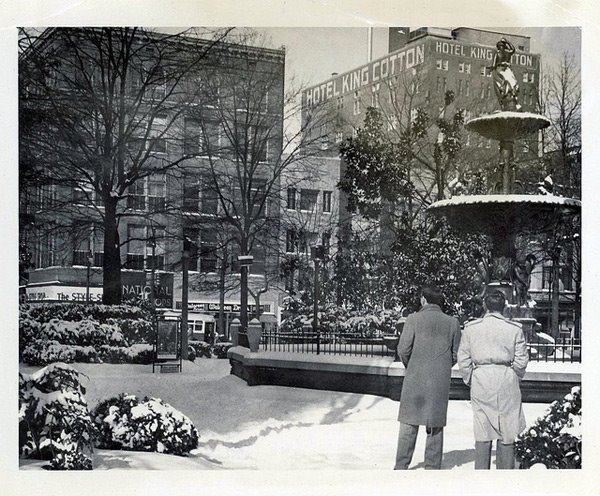 Court Square, in the Winter, sometime in the Fifties, from Facebook contributed by Vernon Cullum. © 2011. From the "Lauderdale Courts–Growing Up" group. Used with permission.
Close
Bookmark and Share This Page
Copy HTML:
If you like this then please subscribe to the
RSS Feed
.