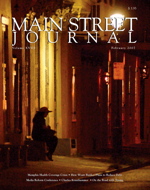 The Main Street Journal is the fastest growing, full color, monthly news and culture magazine in Memphis and the Mid-South. Subscribe online — it's safe and easy!
Table of Contents: February
On the River
Jonathan Lindberg: In Regard to Commissioner Henri Brooks and other able-bodied elected officials that try to make their point by means of incendiary comments – please – for the love of all that is decent – just stop
J. Ward Moorehouse: Comment: Media Reform in Memphis
State Representative Brian Kelsey: Thinking Big
On the Road
Nicholas Carraway: Donald Trump
Judith's Picks
Judith Conroy
Lead Article
Michael Roy Hollihan: The Health Coverage Crisis in Memphis: Profiles and solutions for an ailing system
Feature Articles
Drew Harris: Mr. Predictable: How Commissioner Wyatt Bunker plans to reduce your debt
Ties that Bind
Criticism Continues for Carter Book
The New Mid-east alignment
On the Shelf
Jonathan Lindberg: What is the What?
On the Money
Chuck Bates: The Financial State of the Union: Part 1